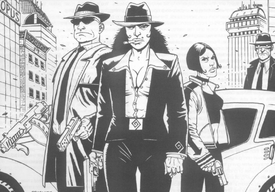 The Kozlowskis, led by Donna Miriam "La Dame de la Mort" Kozlowski, are the Mafia family in control of New Orleans, CAS.
The family originally was part of the Polish Mafia, which was absorbed into the Cosa Nostra by the Commissione in the early 21st century. They share the city with the Italian Mossinos and the Creole/Spanish Romeros.
Being led by a woman is highly uncommon for a Mafia family and Miriam has faced considerable opposition. But like Rowena O'Malley of Seattle's Finnigans she has prevailed. She is actually the 2nd Donna of the family, having succeeded her mother Donna Paula Kozlowski who became the first female capo in the history of the American Mafia. Now she is grooming her niece (whom some suspect to be her daughter), Pamela Rodenbush to take the reins once she is gone.[1]
References
Edit
↑ Target: Smuggler Havens p.16-17