Sioux Nation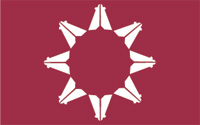 Government Type:
Tribal Council(NAN1)
Capital:
Cheyenne
Leaders:
Population
31,810,000(NAN1)
 6,306,000(SoNA)

| | |
| --- | --- |
| Human | 68% |
| Elf | 5% |
| Dwarf | 4% |
| Ork | 18% |
| Troll | 5% |
| Other | 0% |

Per Capita Income:
22,500¥
Estimated SINless:
15%
Below Poverty Level:
21%
Corporate Affiliation:
33%
Education:


| | |
| --- | --- |
| Less Than Twelve Years | 8% |
| High School Equivalency | 55% |
| College Degrees | 27% |
| Advanced Degrees | 10% |

Major Ethnic Groups:


| | |
| --- | --- |
| Non Tribal | 37% |
| Cherokee (Tsalagi) | 22.1% |
| Sioux | 13.2% |
| Choctaw | 5.7% |
| Creek | 3.2% |
| Chickasaw | 3.2% |
| Blackfoot | 3.2% |
| other Tribes | 12.6% |

Major Languages Spoken:


| | |
| --- | --- |
| English | 90% |
| Dakota | 14% |
| Lakota | 11% |
| Cherokee (Tsalagi) | 10% |

Major Religions:


unknown

Currency:
Nuyen (¥)
DocWagon (100% coverage)
Guaranteed Response Time:

urban: 10 minutes
rural: 30 minutes
Sioux Nation belongs to the Native American Nations.
Foreign policy
Edit
relations with UCAS [1], Germany [2], Japan [3]
rumors of interaction with Ares [4]
Corporate Presence
Edit
Native American "Re-Education Centers" background count 5 [7]
Shadowland node in (at least) Cheyenne [8]
Smuggling
Edit
Long Weekend/Big Sky smuggling route [9]
Underworld
Edit
There's very little Mafia influence in the Sioux Nation. [10]
Local homegrown crime outfit is the Lakota Mafia.
Locations
Edit
References
Edit
This page forked from Wordman's The Sixth World: A geographical index to the world of Shadowrun.
Ad blocker interference detected!
Wikia is a free-to-use site that makes money from advertising. We have a modified experience for viewers using ad blockers

Wikia is not accessible if you've made further modifications. Remove the custom ad blocker rule(s) and the page will load as expected.