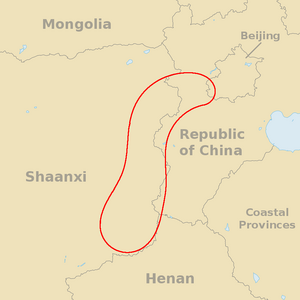 The Taihang Mountains (chin. 太行山, Taihang Shan) are a mountain range between the Republic of China und the Kingdom of Shaanxi. After a nuclear accident early in the century the region is radioactively contaminated.
The names Shanxi and Shandong (in Shadowrun the eastern portion of Shaanxi and a coastal province respectively) refer to the Taihang Mountains or Taihang Shan in Pinyin. "Shan" means mountains, "xi" west and "dong" east, so the regions are named for their position west and east of the mountain range.
Inconsistencies
Edit
External links
Edit
Ad blocker interference detected!
Wikia is a free-to-use site that makes money from advertising. We have a modified experience for viewers using ad blockers

Wikia is not accessible if you've made further modifications. Remove the custom ad blocker rule(s) and the page will load as expected.